Harrisons is a Leading Brand Name Specializes in the Machinery manufacture for Ayurvedic Medicines and a unique Manufacturers and Designer of Exclusive Range of Pharmaceuticals, Quality Control Lab & Cosmetic Industries.






Our Precis

Established in the year 1983, we, Harrisons Pharma Machinery Private Limited are a reputed manufacturer and supplier of a wide array of Pharmaceutical & Cosmetic Machinery and equipment. Our range of machines are used for making Tablet, Liquid, Capsule/ Dry Syrup, Ointment, Multipurpose Equipment, Laboratory Equipment, Cosmetic Machinery, Herbal products and Powder. The offered entire range of machines is manufactured with the use of quality assured materials having ideal properties. In addition to this, we use latest formulation process to make these products as per set industry standards as well as norms. Therefore, our range of machines are known for durability, reliability, easy operation, high production capacities and robust construction.

We have a modern infrastructural setup that houses various units for an integrated production process to deliver best quality Herbal Machinery, Pulverizer, Shifter, Capsule Filling Machine, Tray Dryer, Tablet Compression Machine, Pills Making Machine, Herb Distillation Apparatus, Tablet Coating Pan, Planetary Mixer, Tube filling & Sealing Machine, Double Jacketed Heating Tank, Powder Mixer, Dehumidifier, Ayurvedic Machinery, Stainless Steel Tank, Herbs Grinder, Clean Room Furniture, SS Furniture, Air Curtain, etc. Various units for separate quality testing, research & development, marketing & sales, help us to carry out our business processes in a defect free manner. In addition to this, we have hired a team of professionals and they work hard to provide complete customer satisfaction. For our esteemed clients we market our products at industry leading prices. We only deliver quality assured products for maximum satisfaction of them. Our team ensures shipment of consignments within promised period of time that further enhances clients' satisfaction.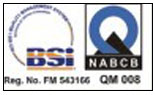 An ISO 9001-2008 Company